Here are some general observations, questions and notes from Week 2.
The Chiefs might be unstoppable
The Patrick Mahomes thing is real and I could not have been more wrong.
Mahomes was ridiculous on Sunday.  He only completed 23 passes, but six of them were for touchdowns.  The Chiefs scored 42 points on Sunday and Mahomes' passing touchdowns were responsible for all six of them.
Pittsburgh's defense had no chance.  Kansas City spread the ball around to seven different receivers; Travis Kelce and Sammy Watkins each had 100 yards, and Tyreek Hill finished not far behind with 90.
Most of the throws were the result of open men, rather than ridiculous throws by Mahomes.  Except this one.
That ball is a MISSLE.  Look the velocity of that thing in the air.  It zips.
And it was in a perfect location too.  Watch the replay and see where Conley's hand are.  Right at the crown of the helmet.  Just perfect.
Oh, and maybe except this one as well…
This ball was another laser.  Travis Kelce's route was a go-route, which means he's not supposed to turn around until he's in or close to the end zone.
Watch the video again and imagine you're Kelce on this route.  Notice how the ball is right there as soon as Kelce turns his head around?  That's incredible work by Mahomes; getting the ball to his receiver right as his head turns around.  That ball is coming at a million miles per hour.  You're not looking at it and then boom, it's right in front of your face.  Catching Mahomes takes just as much as talent making the throw.
The Chiefs might have the best offense in the league.  Their cache of weapons who are explosive is second to none.  And now they have a quarterback who, as a rookie, might already be pushing the top ten.  Yikes.  You're gonna have to outscore this team to win.  With the way we've seen some QBs start to decline this season, there seems to be a lack of teams who are capable of doing that.
Should we feel bad for the Browns?
A line I wrote in the AFC Preview stands tall after these past two weeks…
I mean, this is the Browns we're talking about.  One of the biggest things this team has going against it is that right there: That they're the Browns.
Two weeks into the season and the Browns have been through an excruciating tie and a devastating loss.  And it's not like they've played horrific football!
Sunday was the latest example of "You gotta me kidding me(s)" from the Browns.  They played the Saints close all game.  It wasn't exactly a defensive showdown; it was more of a display of bad offense rather than good D.  But Cleveland's front made things difficult for the Saints.  Alvin Kamara only ran for 46 yards, and no one else ran for more than 18.  It didn't affect him too much, but Drew Brees was sacked three times Sunday, thanks to immense pressure by Myles Garrett (His quickness off the snap is unbelievable).
The Browns front didn't get any help though.  Tyrod Taylor, though the stats don't show it, struggled again.  He was 22/30 for 246 yards with a touchdown and interception, but there was a large amount of dinking and dunking by the Cleveland offense.  Especially evident on his brutal interception, there's just certain throws that Taylor can't make, and the Browns need him to.  Baker Mayfield is right there if they want him.
Cleveland hung in despite their struggles.  New Orleans' slow start cancelled it out, and with just six minutes left Cleveland was up 12-10.  The Saints got the ball and drove down the field to score, thanks to a sick catch by Michael Thomas (There was no play on that ball.  The Browns could do nothing.).
That put New Orleans up 18-12 with 2:40 left.  The Browns had a chance, and it was gonna be up to Tyrod Taylor to come through.
He did.
Cleveland ran the two minute drill nicely.  They got short yet chunk plays to get them yards and save time.  A brutal sack on a terrible decision by Taylor almost cost them the game; in a situation where time was critical, he held onto the ball too long and took a massive 10 yard loss.
He made up for it later.
On 4th and 5 after failing to make up all the yards lost on the sack, Tyrod stepped up.  He threw a heave downfield in a play that is criticized to death if it doesn't work out.  Antonio Callaway caught it and the Browns were an extra point away from going up one.
Somehow, after all the craziness this game had been through, the real madness was just getting started.
Zane Gonzales missed the extra point.  And that wasn't even the most Browns thing that happened in this game.
The Saints got the ball and for the first time all game, looked like the Saints.  Drew Brees turned into the scary Drew Brees he is in late-game situations.  Ted Ginn helped out with that, as he was left wide open and took a short pass 42 yards to get the Saints in field goal position.
That left things up to Will Lutz, who incredibly made the kick (I say incredibly considering 1) How trash the kicking was in this game and 2) How trash the kicking had been and was about to be throughout the weekend; it somehow only got worse throughout the day).
Once again the Browns had a chance, and they actually made a little something of it!  They got two big plays downfield before running out of time, which led to them sending out Gonzalez again for a 52 yard field goal.
What do you know, he missed.  As bad as it was, there were a couple things the Browns could have done for him.  First of all, 52 yards is no gimme.  That's a long field goal for any kicker, let alone a struggling one.  Secondly, the Browns oddly decided to send Gonzales out to kick on 1st and 10 with eight seconds left.  Eight seconds!  That would be plenty of time to run a quick, 8-10 yard out route to make it a shorter kick.  Considering Gonzales shanked it so bad, it may not have mattered, but it's not like they didn't have time, and it's not like it was 4th down.  They had the opportunity.
So should this trigger some sympathy for Cleveland?  Possibly.  The main case for feeling sorry revolves around the fact that they're the Browns, and only something like this could happen to the Browns.  Only the Browns could employ that bad of a kicker and have that bad of luck.  As we've established, the Browns are going to do Browns things.  Sunday was yet another time they did that.
But at the same time, only the Browns would have the stupidity to run out Gonzalez so quickly, and only the Browns would not have the balls to spice things up with Baker Mayfield, who even though was my QB3 in the draft, probably has a higher ceiling than Tyrod Taylor at the helm of this offense; I'll admit defeat on that one as well.
The answer to the Browns sympathy question isn't solved yet.  It's gonna take a little bit more time, but given the way they've battled and stayed in games, hopefully it shouldn't take too much longer.
What in the world is going on in Tampa Bay?
We have and are about to talk about the top three quarterbacks in the league so far this year.  Here they are…
Patrick Mahomes
Ryan Fitzpatrick
Aaron Rodgers
My reaction(s) to this list…
Alright, fine, he's good
WHAT?!
What else did you expect?
Ryan Fitzpatrick and the Buccaneers did it again Sunday.  They torched one of the league's best defenses again, beating Philadelphia 27-21 behind Fitzpatrick's 402 yards and four touchdowns.  OJ Howard and DeSean Jackson each had a 75 yard touchdown; Jackson's on the first play of the game and Howard's in the late 2nd quarter, on a short pass that Howard took the distance, shredding tackles along the way (He has a little bit of Gronk in him.  It was evident at Alabama too.  His size and strength makes him impossible to tackle, even though he's not really that fast).
I just don't have any answers anymore.  The Bucs turned Fitzpatrick and their big, tall and strong wide receivers loose and this is what we got.  Who would have thought?
Assuming we get it, the regression that comes from this will be drastic.  I don't know if it will involve a classic four interception game, or just some plain bad play.  Or maybe the regression involves the Bucs egregiously starting Jameis once he's eligible, then quickly realizing their mistake, forcing Fitzpatrick back in after two weeks and killing the hot streak.
What if we don't get regression though?  What if the Bucs, who a lot of people had as the worst team in the league this season, turn into the miraculous "How TF did that team win 10 games?" team and are in the playoffs?  What if this season teaches us that the only thing better than the RPO is just slinging it 25-40 yards down the field every time and hoping for the best?  The Air Raid/"sling it" mentality is currently employed by the two best offenses in the league through Week 2.  If the RPO is last year's thing, then is slinging it this year's?
I cannot believe the words I just typed.  I have no answers.  Perhaps Week 2 is just as prime for overreactions as Week 1 is.
Can the Vikings and Packers play every week?
In my NFC preview, I had the Packers and Vikings pretty much neck-and-neck, but for different reasons.
The Vikings were gonna be ridiculous because they had the "loaded" trait, something that only about three teams in the NFL can hold the distinction of.  They had the best defense in the league, amazing skill position players and an above average quarterback.
The Packers were gonna be ridiculous because they had Aaron Freaking Rodgers, who lived up to that name in Week 1, and Jimmy Graham, who was one of the most underrated signings of the offseason.  They had good enough weapons to make Rodgers earn that name, and some talent on the defense.  Basically, mostly Rodgers.
This game was meant to be a showdown and it was.  You can't get more neck-and-neck than this.
The things that made each team ridiculous came through in this game.  The Vikings defense swallowed any attempt the Packers made to develop whatever running game they had, while Aaron Rodgers made more ridiculous throws on what looked like 1.5 legs.  Only Rodgers (and Nick Foles.  Wait what?) can penetrate this Vikings defense.
The Vikings skill position players came through.  Adam Thelien and Stefon Diggs had 131 and 128 yards while respectively Kyle Rudolph had 72 more.  Kirk Cousins threw a couple beautiful balls, including these to tie the game.
The touchdown was not only clutch, but was one of the best throws I've ever seen Cousins make.  That ball is in such an incredibly tight window; so tight that we'd probably say "Why would he dare throw that?" if it was incomplete or intercepted.  Kentall Price came flying in at the last second on that play; he was in perfect position to pick that ball off.  But Cousins had the timing just right.  And that was only one of the two most impressive throws of the game.
https://giphy.com/embed/6wo1XQGXJrWRxlRh5f
Everything about this two point conversion is beautiful.  Stefon Diggs might be the only receiver who makes a fade route a good idea.  The ball from Cousins is perfect; part of what makes fade routes a horrible idea is the fact that most QBs can't throw the ball.  Cousins put it in the perfect spot, and Diggs did an excellent job extending his arms and using his hands to make the catch.
But this Cousins parade probably shouldn't have happened.  The worst call of the weekend (By the way, there hasn't been an insane amount of bad calls this season so far.  I'll take missed kicks over that!) was the roughing the passer on Clay Matthews on the first play of this drive.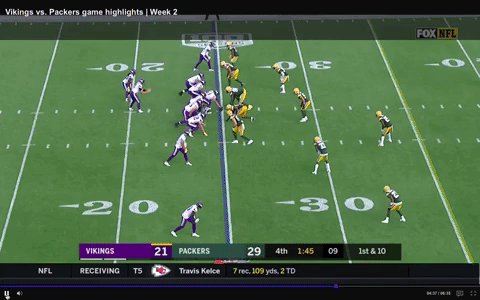 Cousins got away with a lot here.  Lets first disregard the penalty.  Hit or not, this was a terrible decision and a horrible throw.  His receiver Stacey Coley (who's been cut now) is behind rookie Jaire Alexander the whole route; the only way Cousins can save him is by throwing the ball towards the middle of the field, so that Coley could possibly undercut Alexander and be open.  But Cousins throws this ball towards the sidelines, which gives Alexander even more of a chance to catch it.
When Kirk Cousins signed, I got it.  He was gonna be better than Case Keenum no matter what, and even though the money was absurd, it made sense.
But this was the type of stuff I was concerned about.  I wrote before the season and in the Spring that we had never seen Cousins step up to the moment before; that Cousins always seemed to commit brutal turnovers when it mattered the most.  For a second, it looked he had done it again.  And for me, that was to no surprise.
But he got away with it, thanks to the egregious call by the referees on Clay Matthews.
Yikes.  Cousins has barely let go of the ball when Matthews hits him.  It's not like there was a two second gap between Cousins letting go of the ball and Matthews making contact.  It was whatever the word is for "one step below simultaneous."
The call gave Minnesota the ability to go down the field and score the touchdown and two point conversion we saw above.  Those two passes were pretty nice makeups for the interception.
But this game was far from over.  The Packers got the ball with 31 seconds left and made as much as they could of it.  Aaron Rodgers went into Aaron Freaking Rodgers mode, and got the Packers in range for a 52 yard field goal.  It was long, sure.  But this is Mason Crosby we're talking about.  He should be able to make this.
He didn't, but that was just the start of the kicking fiasco.
Minnesota got the ball to start overtime, and as they did all game, carved up Green Bay's still underwhelming defense.  A drop by Laquon Treadwell, who is brutal when he's bad and is enjoyful when he's good, on 3rd down led Minnesota to have to kick.  Daniel Carlson had already missed one kick on the day, and was about to miss his 2nd.  On any other day, Carlson's miss would have been the epitome of the kicking catastrophe that occurred that day.  But oh boy, was there more to come.
The Vikings defense stood tall when the Packers got the ball, sacking Aaron Rodgers on 3rd down and forcing Green Bay to punt.  Once OT hit, offense past the 50 yard line died.
Minnesota had one more chance.  I was surprised they took their time on their last drive, given that the confidence in Carlson was low.  They got some big plays, but I would have been ultra-agressive, doing all I could to avoid having the game come down to him.  That's exactly what happened, and the worst possible result came out of it.
For both teams, there's some luck and some resentment in this game.  Things that happened could and couldn't be controlled.  Controlled things include Minnesota cutting Carlson, which was the easiest decision Mike Zimmer has ever made (as evident here), and the Packers improving their defense, which might be a season-long effort at this point.
Quick hits:
The Ravens are bad.  It was shocking to see Andy Dalton and company tear their defense apart.
The Bengals offense is sneaky-dynamic!  Even more so than I gave them credit for in the season preview.
The Cardinals are also bad.  START ROSEN!
The Panthers lack of weapons and it cost them big time against Atlanta Sunday.  There just has to be more creativity from their offense if they're going to have a chance.
The defensive showing was even worse, mostly because it was a surprise that they would play that poorly.  They're a little banged up, but this team has no chance of doing anything if the defense keeps preforming like it did this past week.
The Bills scored 20 points and only lost by 11.  Congratulations!
Josh Allen missed guys he threw to the most and hit on guys he threw to the least.
About a third of the guys he threw to in that game I have never heard of.
Pretty embarrassing loss for the Texans.  If Blaine Gabbert is winning a game he is the starting quarterback in, it's not great.
I have no idea what DeShaun Watson was doing at the end of that game.  That was something Russell Westbrook would do at the end of the shot clock.  I just don't think he knew the situation.
If we've learned anything, it's that we need to treat him like a rookie still.  Maybe the Texans are a year away.
Houston's defense was fine; the punt return unit got tricked on a fake punt, and that play was the difference in the score of this one.
The offense has to improve; that's the bottom line.
Was I supposed to watch Dolphins-Jets?
I did actually watch a little.  Sam Darnold's a rookie on a bad team, and we can't forget that.
How are the Dolphins 2-0?  Are they really gonna be 3-0 after next week? (home vs. Raiders)
Once again, it's really nice to have Andrew Luck back.  What a delight.
The Redskins looked like the team we thought they'd be Sunday.  Alex Smith and the offense went nowhere, and Luck dominated a very average defense.
The Lions might be taking on the role of the Chargers this season; the constantly underachieving team that has talent but can't go anywhere.
There's also a chance that they're just plain bad.
They just make a ton of mistakes and don't have anything or anyone to make up for them.
What a horrible loss for Oakland.  They were the better team against Denver, as Derek Carr made some impressive throws and Case Keenum did the exact opposite.
Similar to Watson in the Texans-Titans game, I have no idea what Amari Cooper was doing at the end of the Oakland-Denver game.  Just didn't know the situation.
Phillip Lindsay is awesome, you guys.
The Jaguars have found the key to beating the Patriots:  Attack their defense where it hurts and steal the Pats' formula of taking away their No.1 option.  That option was Rob Gronkowski, who had two catches for 15 yards Sunday.
Jacksonville was flawless against the run, something that hurt them in the AFC Championship Game last year.
I didn't buy the case that the Pats defense was better than last year's, and this game is a perfect example of that.  Blake Bortles now becomes the 2nd below-average quarterback to completely torch this defense.
Against good defenses, the Pats might be screwed this season.  They don't have their own D to fall back on if the offense can't get going.
Speaking of offenses not getting going, the Giants on Sunday night were a gigantic fart.
That's really all there was to it.  The Giants defense couldn't stop Ezekiel Elliot and gave up too many big plays, and the offense is just completely nonfunctional.
The Giants defense was probably a little overrated before the season…
Last night was another example of offenses laying a gigantic fart.  Granted, Chicago's D is much better than Dallas's, but the Seahawks could not get anything going until it was too late.
Do you think the Kahlil Mack trade is going to work out for Chicago?
I was really impressed with their offense again.  Trubisky's raw in a couple areas (Decision-making, deep balls), but he gets the job done for now.
The Bears just have so many weapons.  Trey Burton and Tarik Cohen on the field together is a hassle to deal with.